Ten Common Myths about Freerolls and the People Who Play Them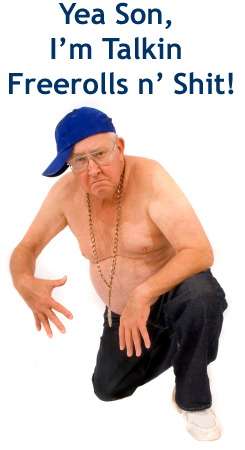 Poker freerolls are the best way to put together a bankroll without ever making a deposit. However, many players think freerolls are free cash, and we're here to tell you that's as far from the truth as possible. In fact, to be a successful freeroll player you'll need skills that surpass your favorite WSOP pro's, and the will to grind all day every day working on your freeroll game. Keep reading to get learned, kid.
Myth #1 – It's all Fun and Games
Most big poker sites like PokerStars.com don't need to give out shitloads of money to attract players. Because of this, their freeroll setup is much tougher to beat than a smaller site like Paradise Poker. Every day PokerStars runs a few freerolls, and all they get you is entry into a bigger $2,000 freeroll.
Imagine how upset you'll be after grinding all day only to learn that your final table finish is only good for another tournament entry? The moral of the story is, freerolling is for dedicated pros willing to hustle, not the everyday newbies trying to make a quick buck.
Myth #2 – Freerollers are No Good
When most freeroll newbies enter a major freeroll, they expect to coast to the money if not the final table. Pssh, it's obvious they haven't been in the freeroll game very long, and they won't last very long with that attitude either. If you want to be a poker freeroll baller, you need underground, proven freeroll strategy to carry you to the big money.
Luckily here at PokerSpoils.com we have a full poker strategy section dedicated to turning you into a freeroll pro…
Myth #3 – "I don't want $5…."
Whenever some of my buddies are over watching me 10 table the daily freerolls, they always laugh at me and say "What are you gonna do if you win? Buy yourself a cheeseburger?" These guys obviously don't know shit – have they ever even heard of Chris Moneymaker?
That guy turned his $40 WSOP satellite buy-in into millions of dollars. Wonder how he got that initial $40 bankroll? You got it, the dude used to be on the freeroll circuit…
Myth #4 – Ladies Actually Like You
This is the equivalent of gold digging in the freeroll game. I've seen way too many buddies get conned into sending their hard earned PokerStars funds to "sexy" ladies who turn out to be 55 year old truckers with pot bellies and Verizon connect cards. If girls won't talk to you in real life, do you really think they'd like you because you're at the final table of the daily $50 freeroll? Fat chance kid.
Myth#5 – You can escape the Game
This is one of the more subtle myths, but perhaps the most dangerous of all. I've lost too many good friends who won a freeroll or two and tried to take a shot at real money buy-in tournaments. You think just because you took down a two-figure pay day you're ready for the big games? Real grinders know better than that, and we'll see you back at the freeroll tables in a day or two.
Myth #6 – "How Does this Game Work?"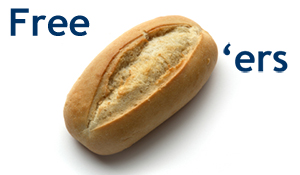 This is an old freeroll trick, and one that I'm ashamed to say I've used myself. Here's how it goes down – you sit at your $30 guaranteed freeroll, and before you even see one hand the player across the table is blowing up the chat box asking how to play Hold'em, what the chips are worth, and if you can actually win money.
At the site of this, the freeroller sharks all start salivating, but beware. I'd say at least 90% of the time the supposed "newbie" will suddenly slow roll a seasoned freeroll pro with Aces, and the seasoned veteran will go hungry that night. Don't say I didn't warn you.
Myth #7 – Everyone's Tough Online…
This is by far the craziest myth of them all. Whenever a bad beat goes down at the tables, everyone starts yapping and saying what they'd do to each other's mothers. However, at the freeroll tables it's more than just online banter, and I've known quite a few people who harassed the wrong freeroll pro and all of a sudden disappeared from the freeroll circuit completely.
Beware, and keep your doors locked…
Myth #8 – You Can't Live off Freerolls
This is another common myth that is so far off from the truth. People think just because freerolls only pay a few dollars to the top finishers, that you can't live well off a freeroll career. Trust me dude, when your library has 20" monitors like mine, you can play 10 freerolls at a time, and really bump up that hourly rate. Put in 40 solid years and you'll be retired in no time.
Myth #9 – Freerollers don't Ball
Although I've mentioned a bunch of times that the best freerollers are grinders making a decent wage, that doesn't mean that we don't all ball out on occasion. Every year we have the FBLV (Freeroll Ballers in Las Vegas) convention where we all meet up and discuss the current industry. I'm ashamed to say that almost no business gets done, and we mainly just smack up lady freerollers' asses. Who would've thought…
Myth #10 – Play Money's no Good
If you're not quite ready to step up to the freeroll plate but still want to get some poker action, make sure to check out the play money tables. Most people think play money has no cash value, but Absolute Poker has changed all of that. Their new 10 Million Chip Hall of Fame gives players $50 in cold hard cash for every 10 Million play money chips you accumulate. This is a great way to stack some cheddar together without facing the freeroll sharks.
More from the "Ten Things You Should Know..." Series
Ten Things you Should Know about Playing Omaha Poker