Play at Cake Poker Now
Click the Banner Below
to Get a 100% Bonus at Cake Poker.

PokerSpoils Newsletter
Enter your email address below so I can send you exclusive promotions that I am not allowed to advertise on this website!
Popular Pages

US Poker Sites
Poker Rooms Reviewed
Poker Bonuses
Cake Poker Bonus - Get up to $500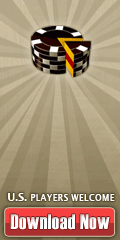 The Cake Poker first depositor bonus gives you 100% of your deposit, up to $500. You'll have 90 days to earn your bonus in $10 increments once you earn a certain amount of Frequent Player Points. FPPs are awarded at the rate of 1 FPP per raked dollar and 7 FPPs per $1 in tournament fees paid. You can see how many pending bonus dollars you are entitled to under the Cashier.
Cake Rewards Program
The Cake Poker Rewards Program is probably one of the best on the Net. On top of FPPs, also referred to as Gold Chips, players have the opportunity to win Gold Cards. Gold Chips can be spent on prizes in the Cake Shop or on exclusive Gold Chip Tournaments. Gold Cards are an additional promotion that randomly award Gold Cards to players while they are playing online at Cake Poker. These can be used in the Gold Card Lottery, as well as in the Gold Card 500 leaderboard challenge that awards more than $10K in cash monthly. You can also collect Gold Cards to go for the $50K+ jackpot.
Cake Poker's Rakeback
Cake rakeback is offered at 33%, which means you will get 1/3 of your contributed rake back from Cake Poker. Your rakeback will be paid directly to your Cake account on the 15th of every month in the dealt rake calculation method. If you want rakeback at Cake Poker you must sign up using THIS LINK. If you are confused about how Cake's rakeback works then I suggest you read this page on Cake Poker's rakeback.

Read our full cake poker review.